How to get your horizontals and verticals straight………for free.
Before photo
And here below is the "after processing" version of the same photo.  Please note that I have not conducted any further post processing on this, its just as the program exported/saved – well frankly because that's the whole point of this post……something that is too time consuming, well……… for many it just won't get done will it?
You don't need to spend hours doing it, just a couple of minutes per shot, heck I'm sure even the admin folk in the office could do this for you.
Considering that this was a photo from a website advertising a NZD$750,000+ property….well if it was my property I would have expected at least the above shot.
And yes, lighting wise, an off camera flash aimed towards the top left could of helped, or some photoshop to do that for you, but the point here is speed of processing not overall technique.
And here's the absolute fabulous news – Larry over at PFRE blog alerted me to this software, it's freeware.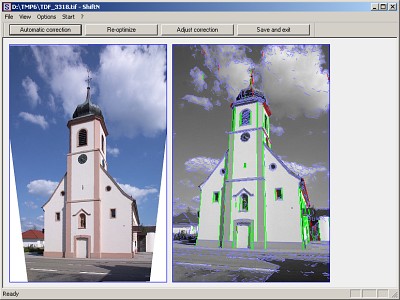 The program is called ShiftN V3.5, Windows only, and its available here at their site.
The above screen-shot from their site gives you a quick & basic preview of the "working" / operating window.