Location based GPS…I hinted about it last post.  Is it the next BIG THING?
Well actually many think it might just be that, …..what then exactly is location based GPS?
According to Wikipedia it is
A location-based service (LBS) is an information and entertainment service, accessible with mobile devices through the mobile network and utilizing the ability to make use of the geographical position of the mobile device
In other words you have a GPS enabled cellphone, and that location data is able to be monitored if you so desire.
What's the point?
Well number one point is in an emergency, except for sticking up a 100m retractable pole in the air with a white flag on it (and not many of us carry one of those)  this is the next best thing to allow emergency services to locate an injured person. There is another option but its a tad expensive.
Google is aiming with its "Latitude" (not to be confused with the separate  latitude/longitude popup feature also found on Google Maps) to be top of mind for users.
Uses thought up so far.
See where your friends are?
Check what calls your outbound service vans / fleet are making/travelling?
Check at a glance to see what mobile sales / demo vans are in the area, while an inquiring caller is still on phone.
In a shopping strip and want to get told which shop you're out front of has special downloadable coupons? (could also be standing outside & take a pic of a QR Code too)
Which nightclub in your area has the most action tonight? And it learns…… Over time, it learns about where you like to go (fancy restaurants or punk rock clubs) and shows you other people like you, and where they are-right now. And it does all of this anonymously. (You can't see your where your actual friends are).
Your own Jeremy Clarkson Top Gear 'ish type race (keeping to speed limits obviously). Example here from Garage419 is from Manhattan, NY, to Washington D.C., using a plane, a train, an automobile, and various mobile devices. Watch it here.
Mountaineering…as in photo above…from document here.
A real estate aerial view photographer, say working in Christchurch is called out to a job in Diamond Harbour, when he arrives, he quickly scans the area by his mobile phone, and sends off, to the listing agents mobile,  the following SMS he had saved in his template folder
"Dave from …..here, in Diamond Harbour, special price on aerial property photos for nxt 2 hrs. pls call…. "
You get the picture I'm sure your imagination is the only barrier here….
Me, well I could easily imagine a time when the cellphone user wants to go visit some OpenHomes and wants to know when they've finished one, what choices are available in their price range with-in the local area.
Or a new buyer arriving in town who has just 2 days, but being totally unfamiliar to the town, wants to spend the 1st day driving around familiarizing themselves, getting their bearings, investigating the best suburb / zone to live, transport options, schools, etc.
Then while still sitting in the car in that selected location, search for and check out on their device, homes that are up for sale** locally.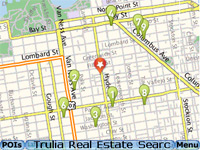 Depending upon the application it could perhaps show you on screen where houses sold recently are and what they sold for. You'd be able to drive around and check them out yourself.
And even if you were on foot, phones like this Google Dream have a built in compass/movement detection (like this iphone app) that will enable even more possibilities.
And in case you hadn't noticed Google switched on the next improvement to their main search engine over the last few weeks. It still needs improvement but is showing what location based will be all about. Jump across to Google now, type in restaurants, or movie theatre, you won't need to type in Nelson restaurant or Nelson Movie theatre because via your IP Google knows where you are, and as you will notice it serves up local info.
The good news is that many of these applications are working as I type in the USA on iphones and others too. What I would like to see here in NZ, and considering the $$$ figures I hear those like Telecom have invested in their new network, then I'm not feeling too confident on this one…..is that soon "reasonable pricing" will be a word we can associate with downloading data to cellphones, and not the sky high prices currently.
………..and when everything starts to come  together….
** Yes some of this functionally is in present systems but not quite to the same degree in regards operability / seamless operations with different software platforms and better integration with specific Real estate applications.